Hosted Exchange and
Office 365 Email
Business email powered by Microsoft Exchange helps employees be more effective and productive.
Email is the centerpiece, but it doesn't stand alone.
That's why we offer solutions that bring added functionality to Exchange Email to meet the unique needs of your business, whether you're seeking to comply with HIPAA, FINRA, GDPR or other regulations, or you're looking to boost employee productivity with better tools. Choose the combination of services that's right for your organization.

Sharing and collaboration
Easy and secure backup and file sharing that also protects your files against malware and ransomware.

Comprehensive compliance and security capabilities including anti-virus, malware, and SPAM filtering, as well as message archiving and encryption.

Office 365 Business productivity applications (Word, Excel®, PowerPoint®, Outlook®, OneDrive).
Expert migration and onboarding minimizes downtime and provides for a seamless transition to cloud-based services.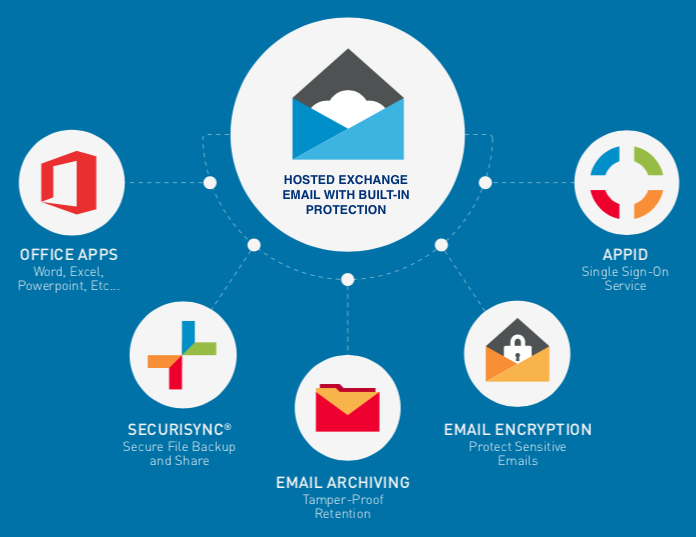 Moving email to the cloud makes sense in our on-the-go working world. Your employees get access to their email from their favorite devices no matter where they are, and you get the benefit of a predictable monthly per-user fee with no need to purchase servers or license software. And we can provide customized deployment options for larger businesses that require single tenant environments. Plus, our Exchange Email integrates with Intermedia Unite®, our cloud-based business phone system, and with other vital business tools including SecuriSync® for file collaboration and backup, and AppID® single sign-on identity management.